How To Make Eggplant Stacks With Ham | Rachael Ray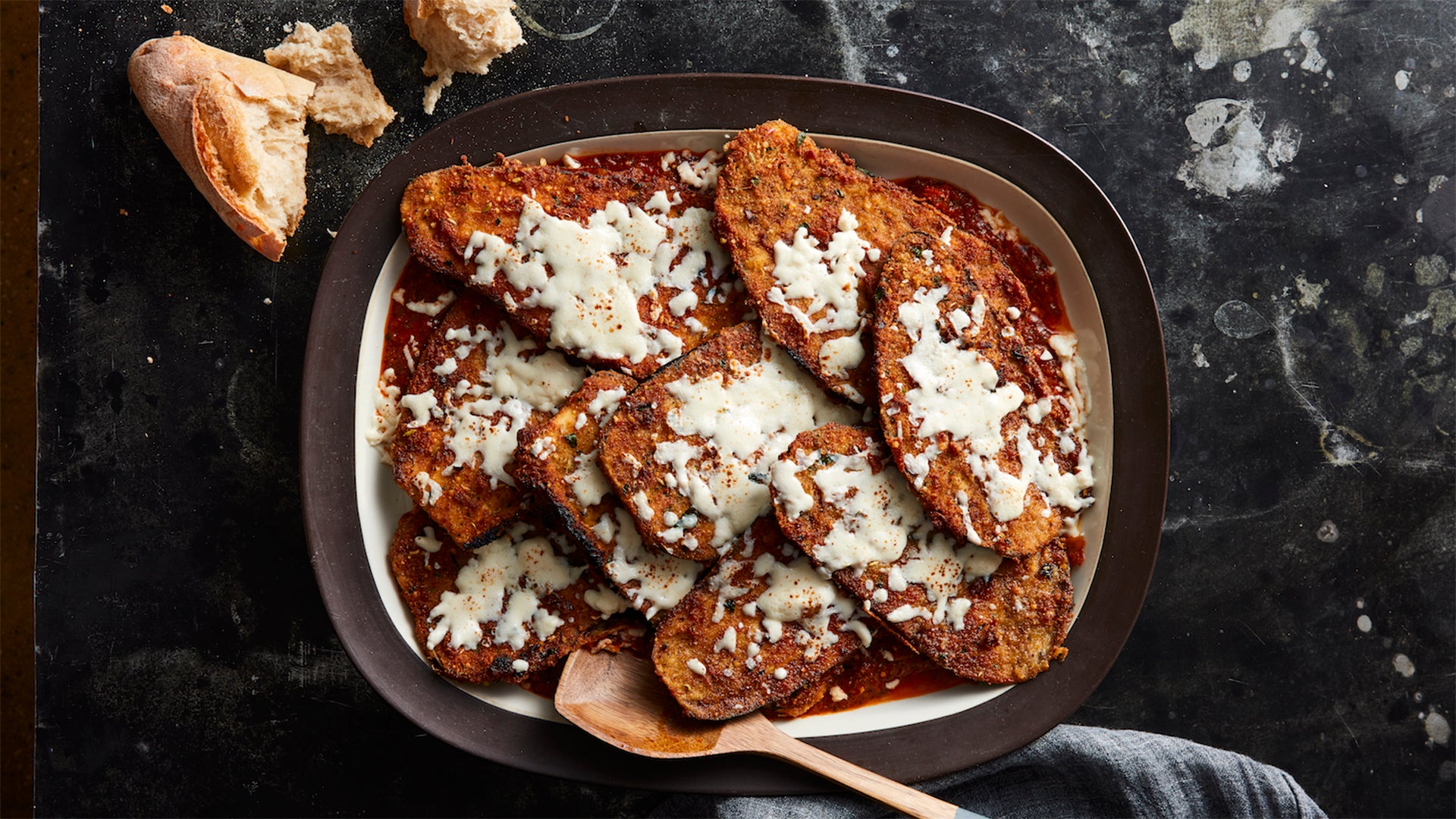 How To Make Eggplant Parm Steaks From "Rachael Ray 50"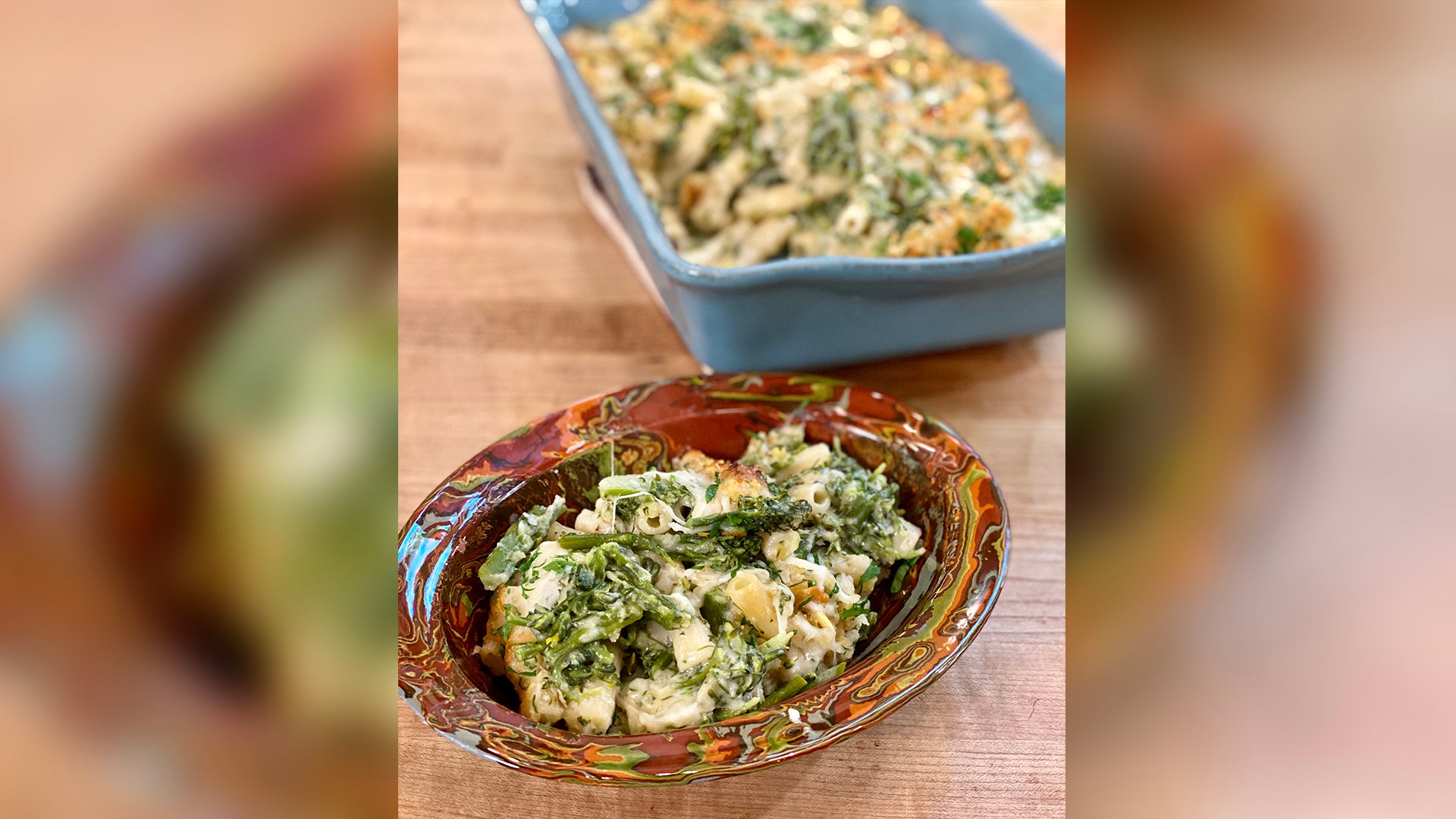 How To Make Broccoli Mac and Cheese Casserole | Rachael Ray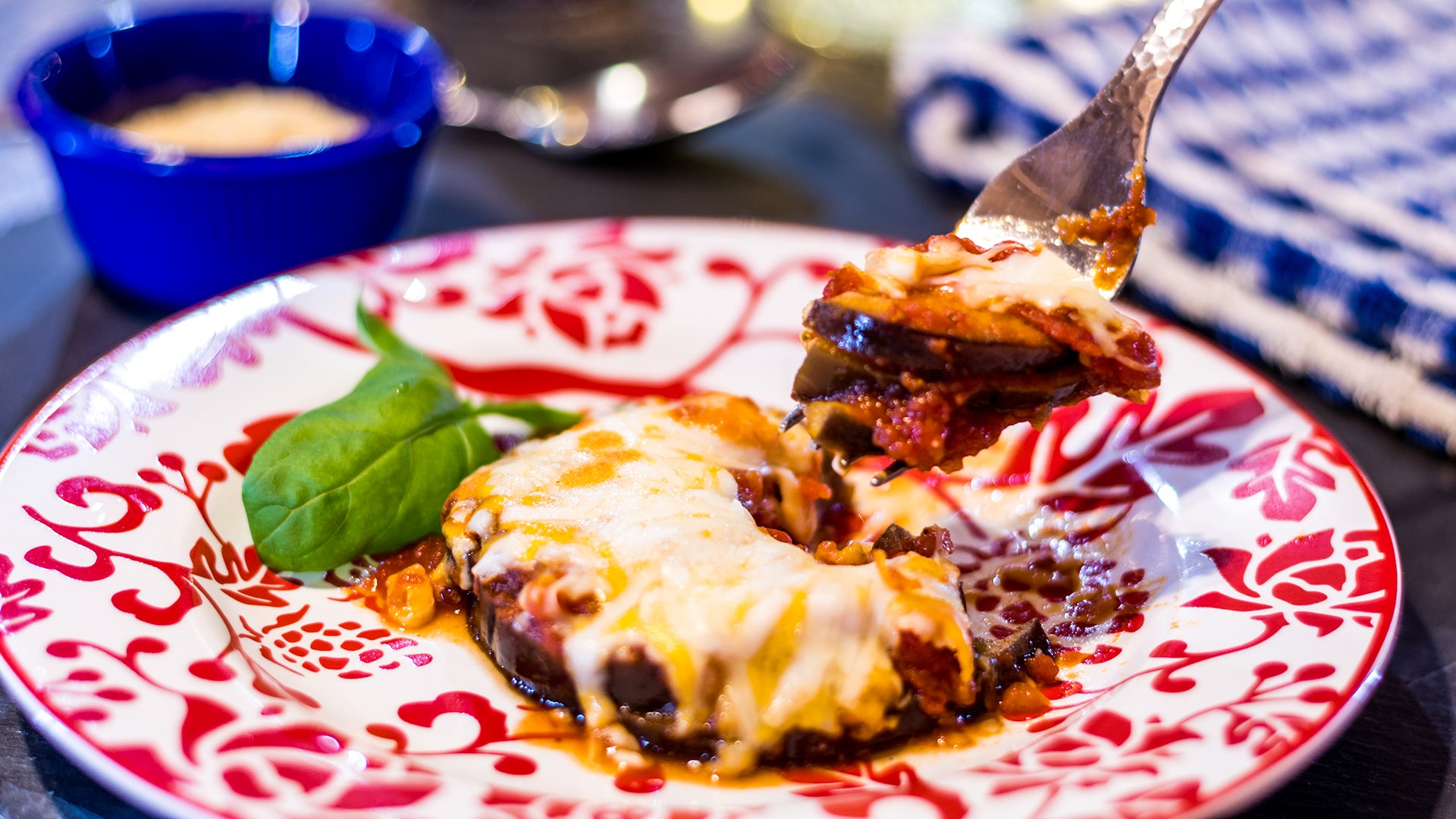 How To Make Authentic Eggplant Parm (No Breading!) | #StayHome Q…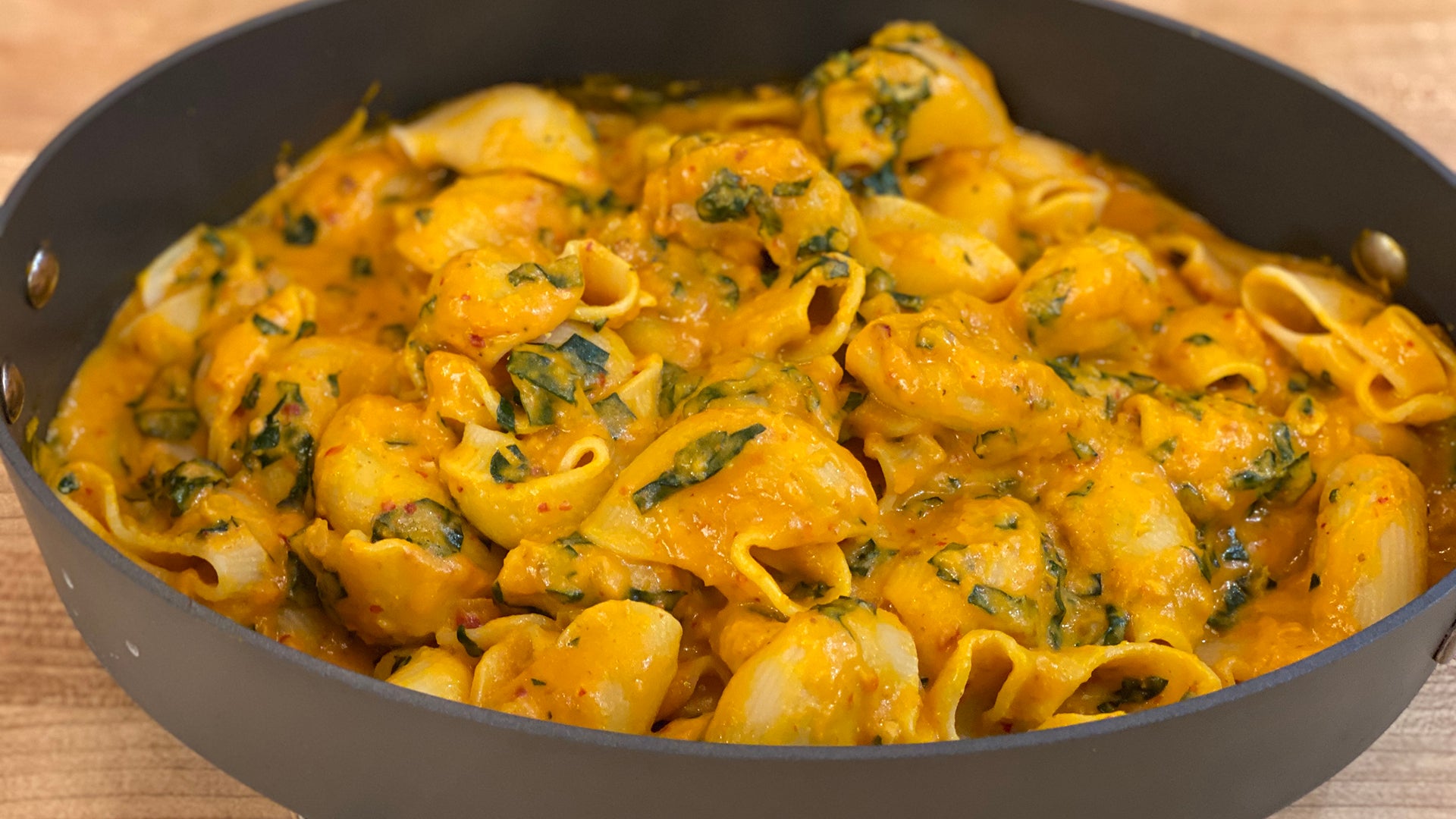 Pumpkin Vodka Cream Pasta with Spinach or Kale | Shells & Cheese…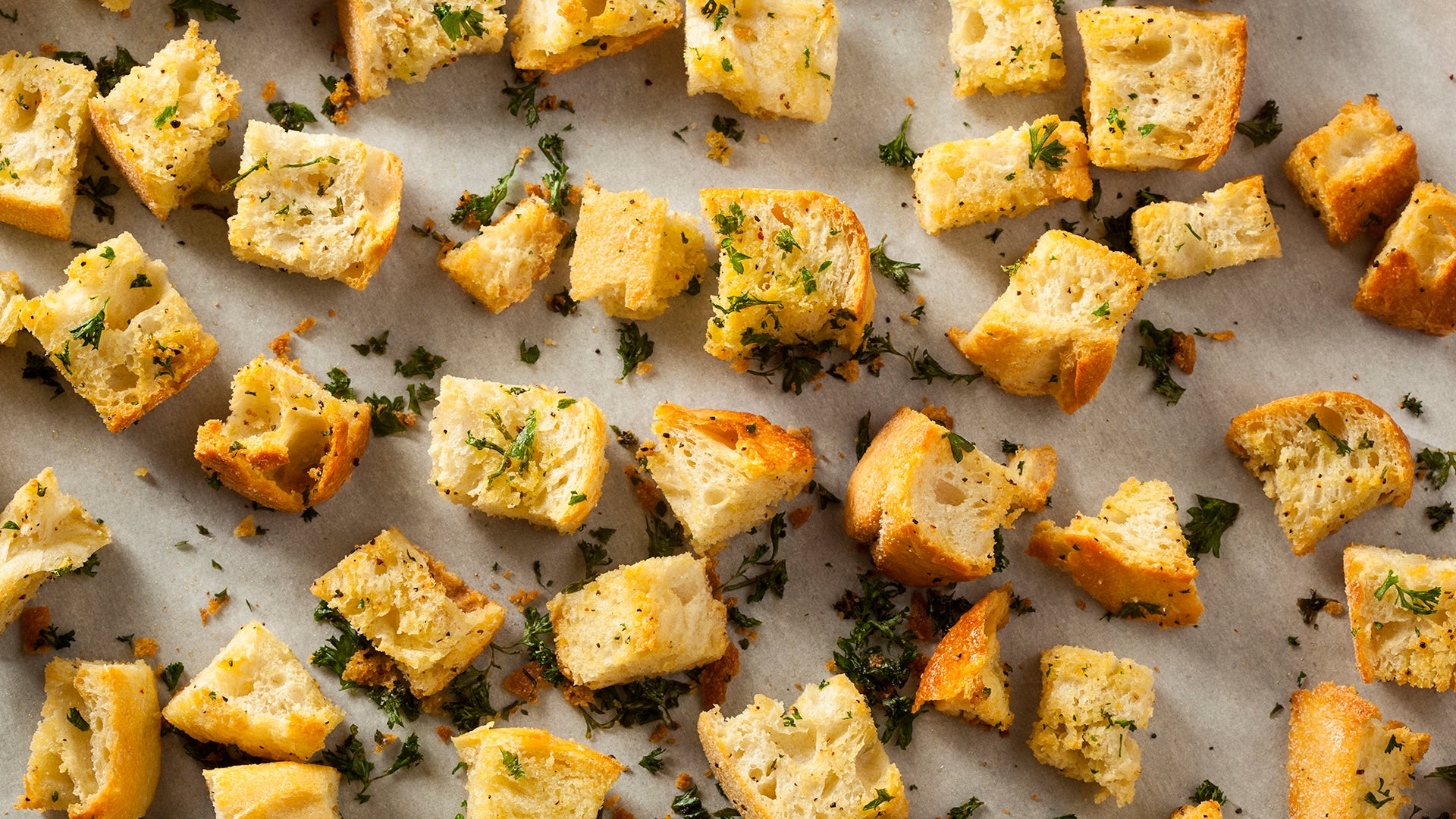 How To Make Cheesy Croutons | Rachael Ray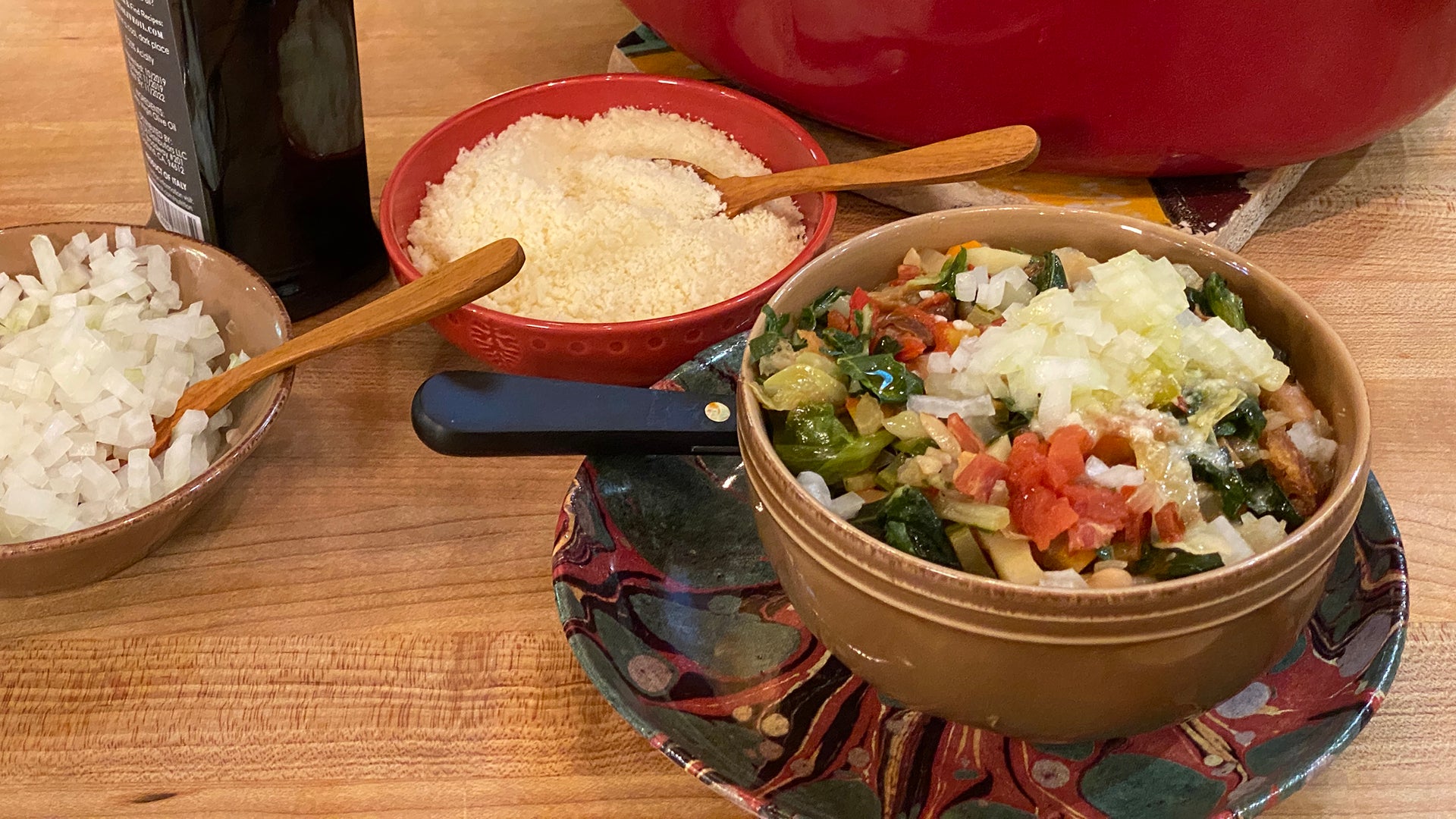 How To Make Ribollita with Porcini Mushrooms | Rachael Ray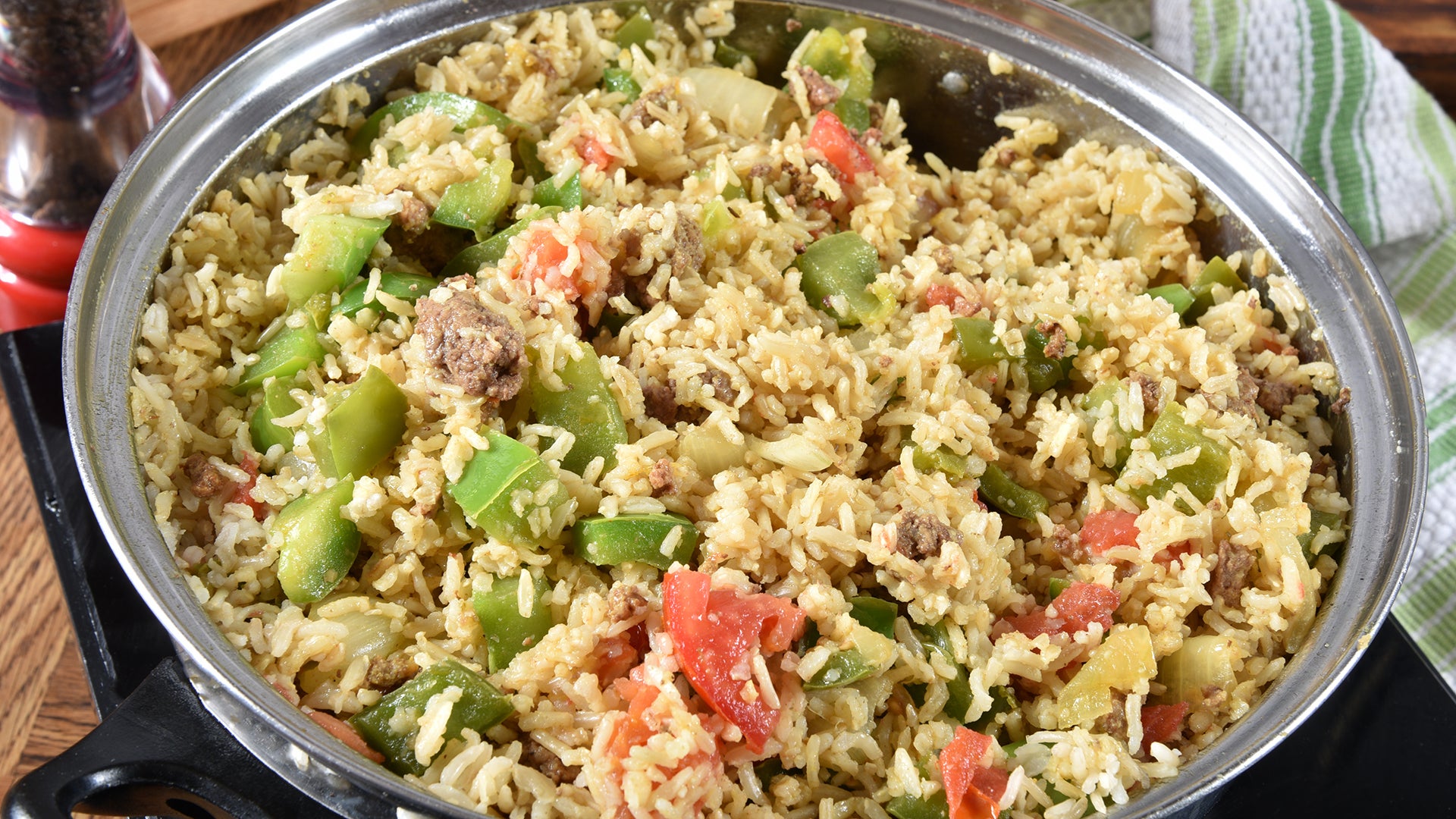 How To Make Cheeseburger Rice | Rachael Ray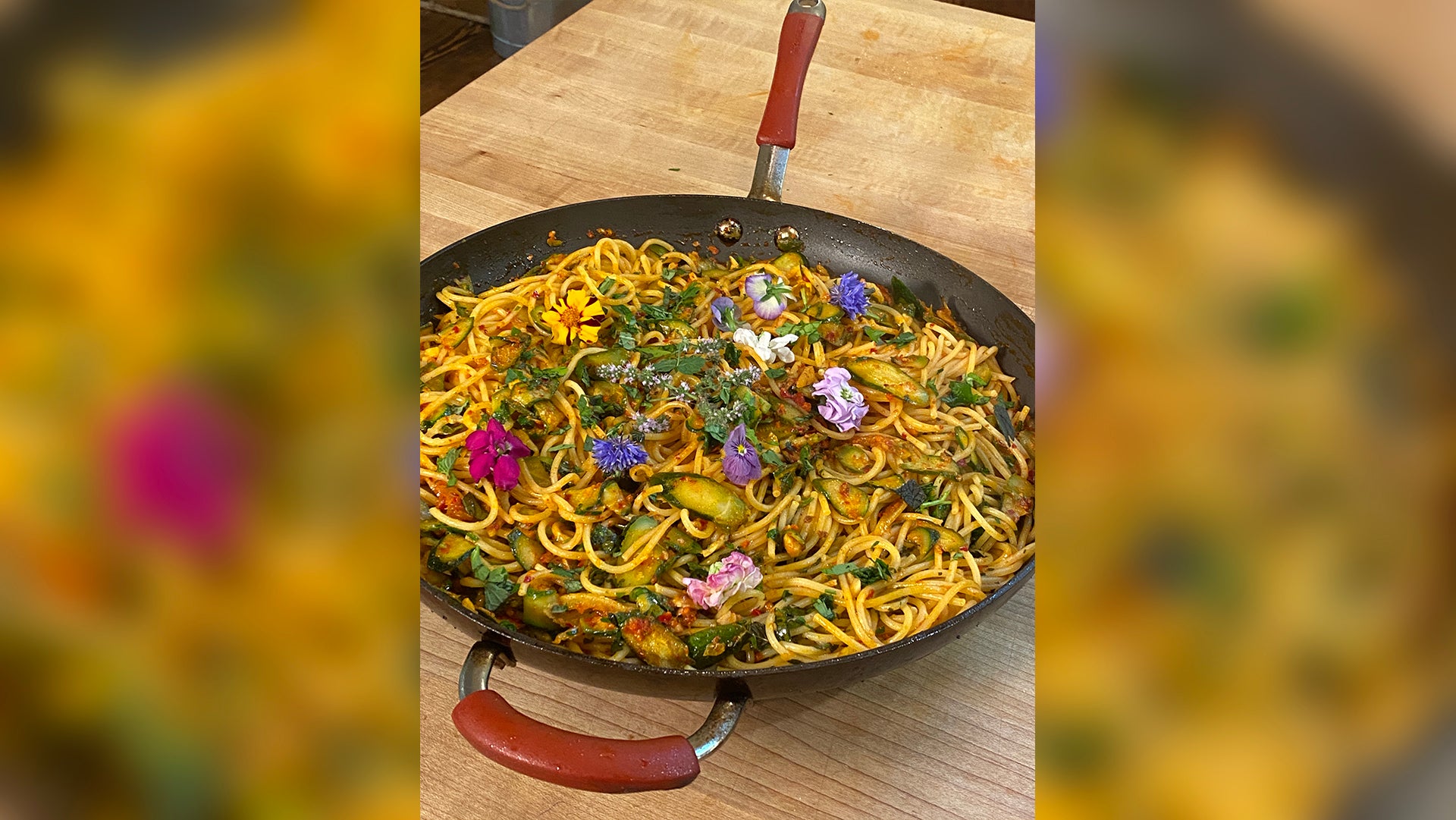 How To Make Spaghetti with Zucchini and 'Nduja | Rachael Ray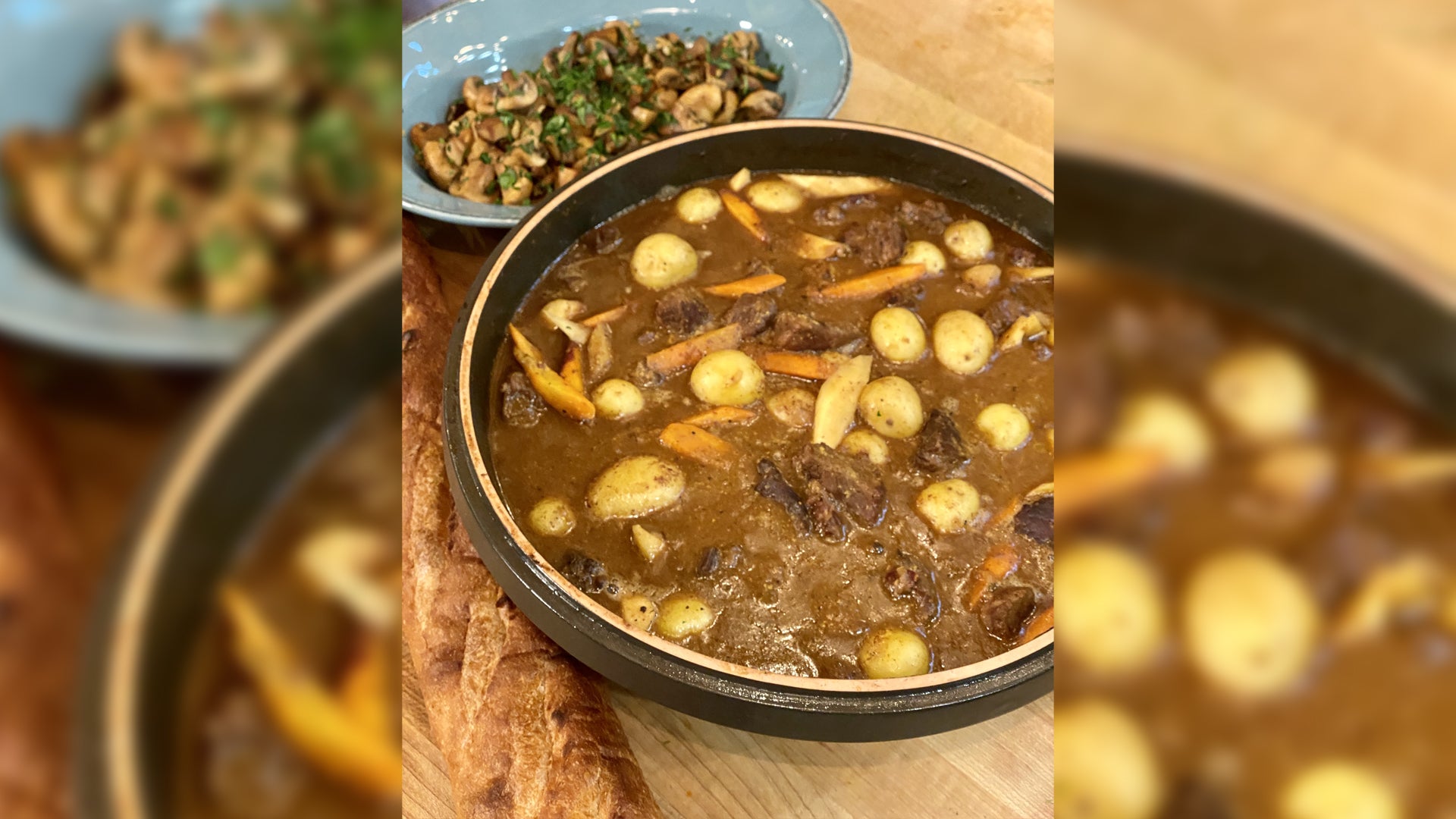 How To Make Beef Stew With Dijon Mustard | Rachael Ray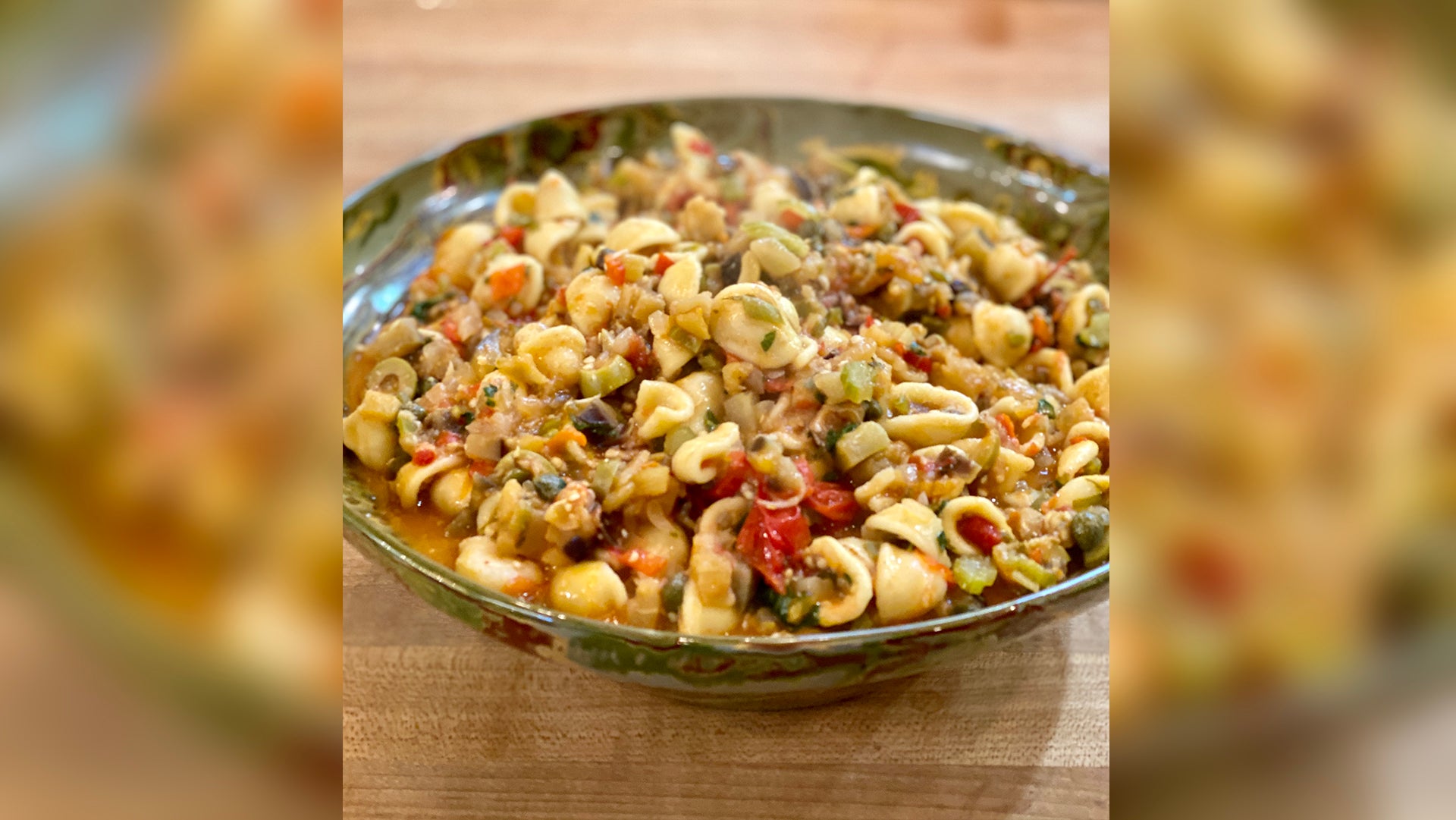 How To Make Pasta With Confetti Caponata Ragu | Rachael Ray
One of Rach and John's mainstays in upstate New York is Ridge Terrace, where Rach used to work. Their favorite dish? The eggplant stacks made with hot capocollo ham. Here, Rach makes her version, which became a household go-to during quarantine.
Ingredients
2 large firm eggplant, thinly sliced across about ¼ inch
Salt
Non-aerosol olive oil spray
About 2 teaspoons fennel pollen or ground fennel
About 2 teaspoons red pepper flakes
About 2 teaspoons dried oregano 
2 tablespoons extra-virgin olive oil (EVOO)
1 large fresh bay leaf
1 onion, finely chopped
4 cloves garlic, chopped
One 1-inch piece cinnamon stick
1 teaspoon coarse black pepper 
1 cup water or chicken stock
One 14-ounce can fire-roasted diced or crushed tomatoes (or 2 cups)
1½ cups passata (half a bottle)
¾ pound hot capocollo ham
2 cups mozzarella, shredded
2 cups provolone, shredded
Chopped fresh parsley, to serve
Preparation
Slice eggplant and arrange on kitchen towels, salt on each side and top with another towel. Press and drain for 30 minutes to 1 hour.
Preheat oven to 450˚F with oven racks just above and below center.
Line 2 large baking sheets with parchment paper. Arrange eggplant and spray both sides with olive oil spray, then season with fennel, red pepper and oregano. Roast 20 minutes or until golden and tender, swapping trays midway.
Meanwhile, heat EVOO in deep skillet or saucepot, about 3 turns of the pan, over medium heat, add bay leaf and onions and soften 7 to 8 minutes, stir in garlic, cinnamon and black pepper, stir 2 minutes, add about 1 cup water and let it absorb, add tomatoes and simmer to thicken a bit, then remove bay and cinnamon.
Roast hot ham on parchment when eggplant comes out, 2 to 3 minutes to hot and crisp at edges.
Stack in casserole dish: sauce, eggplant, ham, eggplant, ham, eggplant, sauce, cheese. Bake to golden and top with parsley to serve.